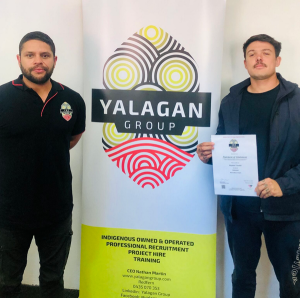 Hayden Trindall is just one of many candidates that Yalagan Group has assisted in sourcing sustainable employment and training opportunities during 2021.
Nathan Martin met Hayden last year while he was at the Glen Alcohol and Drug Rehabilitation centre in the Central Coast, as a Ngaimpe Aboriginal Corporation the Glen was set up to support men (Indigenous and non-indigenous) by providing opportunities for drug and alcohol rehabilitation in the hopes of keeping our young community out of the criminal justice system.
With the help of our in-house national RTO Yalagan Registered Training, Hayden once he completed his time at The Glen was able to complete not one but three courses in the pursuit of obtaining a full-time contract with one of our clients; working closely with the team at YRT over the course of a few months Hayden completed his Forklift License, Elevated Work Platform and Working at Heights giving him the opportunity to up-skill and advance in the construction Industry in a way that he never thought possible.
Long-time mentor of Hayden, Nathan Martin Yalagan Group's CEO and Founder worked closely to make sure that opportunities would be available for him following the completion of his courses. During early March we were successful in placing Hayden in his first role with ARA Fire on Phase 1 of the 2.8 billion dollar tunnelling contract for the Sydney Metro Project.
As Australia's biggest public transport project to date, this was the opportunity Hayden was hoping for and an outcome we were very proud of. With the assistance of both ARA Indigenous and Rohan Tobler, Hayden was able to secure a full-time contract on the project where he remains today.